Showing 2 posts tagged coke
By: Abdulhadi Hafez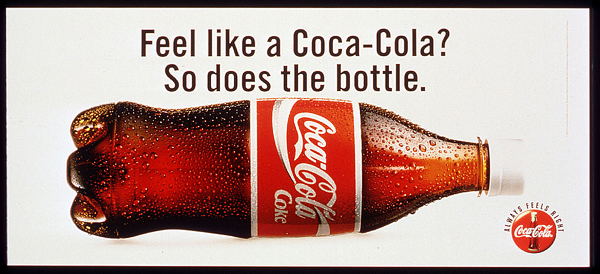 We've said it before with past blog posts such as The Future of Advertising: Dynamic Storytelling (6 Tips), and we'll say it again. The future of advertising and marketing will depend more on online content creation in the form of dynamic storytelling that either entertains or educates the end-user. 
If you're an advertiser or a marketer and have not seen the Coca Cola Content 2020 video (17-minute video broken up into two parts), then we highly advise that you should. The first part shows how advertising is starting to see a shift from having to depend on traditional channels (e.g. TV advertising) to deliver creative one-way storytelling to depend more so on online channels (e.g. social media) to spark dynamic storytelling utilizing branded content and entertainment.
This very video is a perfect example of how advertisers are moving from creative excellence to content excellence. We're used to seeing Coke use traditional advertising methods (such as in the above Coke billboard ad) to deliver creative and clever marketing messages.
But now, we're an advertising agency and Coke is giving us tips (10 chapters of it!) on advertising and marketing, doesn't this seem odd to you? Well, we're not complaining! In fact, this is a testimony to the very concept they presented in the video, this idea of "content creation in an enlightening way, reminding us that every contact point with a customer should tell an emotional story," as stated by Coke.
The second part of the video goes on to define content as the "creation of stories that are to be expressed through every possible connection." Or as Christian Haaseloquently stated, "In 2012, advertising will be more than ever the intersection of technology and storytelling."
We like to think of it as the creation of branded content and entertainment, hence the new concept, "content marketing." And if you're looking for some great examples of what content marketing entails, then be sure to check out our previous post entitled, "30 Awesome Content Marketing Examples."
Despite the unrest seen from the recent Arab Spring, the IMF predicts a 4% growth rate for the whole Middle East region in 2012 and the Gulf Cooperation Council countries could even see a striking 7% growth rate, which is good news for us here in Kuwait!
It's also good news for the advertising industry in the Middle East, because where there's business, there's advertising. A study done by Harvard shows that two activities businesses cannot afford to cut back on: employee training and marketing!
Another piece of good news is that Coca-Cola announced a nearly $1 billion investment in Aujan Industries, the region's largest juice, fruit drinks and cordials company. Here's their comment on the deal: "It's the largest fast-moving consumer goods deal in Middle East history and our partnership will give Coke a majority stake in the juice portfolio in the Middle East and a minority stake in Aujan's bottling operations."
Let's hope we see more of these types of investments to help improve the Middle East's economical outlook, especially for the advertising industry in Kuwait (we're usually selfless but we have to look out for our own self-interests sometimes as well ;)