By: Abdulhadi Hafez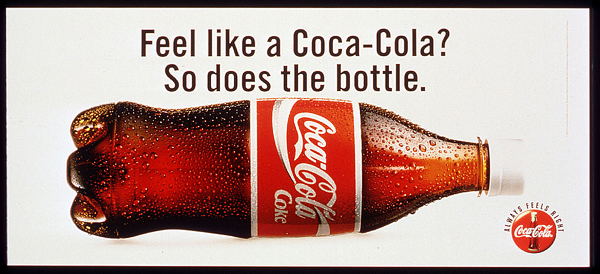 We've said it before with past blog posts such as The Future of Advertising: Dynamic Storytelling (6 Tips), and we'll say it again. The future of advertising and marketing will depend more on online content creation in the form of dynamic storytelling that either entertains or educates the end-user. 
If you're an advertiser or a marketer and have not seen the Coca Cola Content 2020 video (17-minute video broken up into two parts), then we highly advise that you should. The first part shows how advertising is starting to see a shift from having to depend on traditional channels (e.g. TV advertising) to deliver creative one-way storytelling to depend more so on online channels (e.g. social media) to spark dynamic storytelling utilizing branded content and entertainment.
This very video is a perfect example of how advertisers are moving from creative excellence to content excellence. We're used to seeing Coke use traditional advertising methods (such as in the above Coke billboard ad) to deliver creative and clever marketing messages.
But now, we're an advertising agency and Coke is giving us tips (10 chapters of it!) on advertising and marketing, doesn't this seem odd to you? Well, we're not complaining! In fact, this is a testimony to the very concept they presented in the video, this idea of "content creation in an enlightening way, reminding us that every contact point with a customer should tell an emotional story," as stated by Coke.
The second part of the video goes on to define content as the "creation of stories that are to be expressed through every possible connection." Or as Christian Haaseloquently stated, "In 2012, advertising will be more than ever the intersection of technology and storytelling."
We like to think of it as the creation of branded content and entertainment, hence the new concept, "content marketing." And if you're looking for some great examples of what content marketing entails, then be sure to check out our previous post entitled, "30 Awesome Content Marketing Examples."
By: Abdulhadi Hafez
We wrote an article before titled "How the Heck do I Humanize my Social Media Brand?" and one concept we were highlighting is the notion that only 18% of people trust advertisements nowadays, while 69% of people trust editorial content. 
For this reason, one of the phenomenons we are now seeing in the advertising and marketing world is this idea of content marketing. If I had to define content marketing in a concise but sufficient sentence, it's this: Providing valuable or intriguing content that either educates the end-user or entertains them, but in a way that indirectly promotes your brand.
What's a good example when it comes to entertaining your target audience? A spontaneous or humorous video. Yeah, you heard us! Just have a look at the above Old Spice commercial which got 40 million views on YouTube and sparked the creation of many other parodies of this ad using the same character and theme.
But what about content marketing that educates the end-user? What's a good example of that? Besides articles and blog posts, free e-books are perfect examples! And how ironic, we found an e-book that provides 100 examples of content marketing (hence the title of this article), created by The Content Marketing Institute. 
You heard the man, the e-book they provide cutting-edge content samples from a wide variety of print, video, online and event campaigns. If you are an advertiser, or a marketer, or a blogger, then you need to download this e-book, but if you're too hesitant to provide them with your email or are too lazy to even do so, then here are the most unique 30 examples they provided. Feel free to click on the link that provokes your curiosity the most and learn from their successes.
Each example has right next to it in square brackets the type of content that it provides. You will notice that much of the content does not relate to the brand very much, and even if it does, it's fairly indirect. This is the right way of doing it, seeing that people are tired of being bombarded with traditional "push" advertising and marketing messages and signals, and this is why there is this phenomena of content marketing in our times, which in a way is branded content or entertainment.
By: Abdulhadi Hafez
And I don't mean fairy tale stories like Cinderella and Prince Charming. I am talking about content in the form of storytelling! According to Chrisitian Haas, the executive creative director at Goodby Silverstein & Partners, advertising in 2012 will be more than ever about using technology to create and share content.
But not any kind of content! And how you write the content also makes an impact as well. The content needs to be relevant to your industry and target audience, practical enough to be applied within the same day of reading it, rich enough to be recognized as being insightful, and last but not least, it needs to be in the form of exciting and vibrant stories to put people on the edge of their seat while reading it, and to inspire them so much that they will click that retweet, or +1, or like button without hesitation!
When I say content, I mean articles, posts, infographics (newest method of data visualization), and even videos and images-don't forget that a picture is worth a thousand words! Each piece of content needs to tell an intriguing story that relates to your target audience and that provides some sort of value. However, the most popular form of content that will help your business generate leads and sales, is by far articles and blog posts. Can you give us an example you may say.
As far as articles go, once again, I don't like to brag but this very blog is an example. We are an advertising agency and our audience are advertisers, so we decided to start a blog (using the free-based blog platform Tumblr) so we can every now and then provide useful content related to the advertising and digital media industry, in the hope of attaining leads out of it (hey, at least we're honest about it!)
I mean, come on! Why else would we be putting so much time and effort in running a blog and other social media channels? Time is money people! And let me break it to you, social media is about making money too! Hubspot came out with a study revealing how social media is for generating leads and sales, with blogs having been cited as the biggest sale generator, stating that 46% of the participants in the study claimed to have acquired a customer from their company blog. Sweet! 
Hey, nobody is holding you guilty for writing content for the sake of generating leads, the intention is irrelevant (plus it's hidden, only God can judge you). You don't need to write content with the pure intention of helping people, it needs to make business sense for you. It's the kind of content you write and how you write it, that matters. 
Your content therefore must:
1) Be relevant to our industry and target audience
If you're an advertising agency then write about advertising (and anything related such as digital media, marketing, PR, etc.)
2) Provide valuable content and practical tips that can be applied today 
Don't write for the sake of writing or to say that you're writing. Do actually provide valuable information that will help your target audience. And that valuable content must have practical tips that can be applied, not just filler words and theoretical junk. Provide tips, hints, strategies, tactics, whatever to get the engine up and running.
3) Be in the form of an intriguing story 
You need to write the content as if you're writing an intriguing story: An intro that will incite the visitors to read the whole article, suspense throughout to keep them interested, a climax to have them glued to the screen, and images to feed their inner crave for visuals. 
4) Include images that strike curiosity
Images are huge in writing articles or blog posts, especially the first one that your readers see. It should be an image that strikes curiosity. For example, have a look at the Cinderella image on the top for instance. I bet you many people will scroll down just to see what the correlation between advertising, lead-generation, and Cinderella is. Even if they have no interest in the topic whatsoever!
5) Introduce some sort of new, or creative idea
Don't just write about how businesses need to adopt social media and provide proofs for how important social it is for example. There are millions of articles that say just that. Provide a catchy headline and present creative ideas that will make your story stand out from others. Talk about a controversial topic such as how Google Plus is threatening the future of Twitter for example. The idea is to present a new idea or thought that either nobody or a few people have presented before.
6) Tell the story as if you're telling it to your friends and family
We communicate best to those who we love the most, and who do we adore more than our family and friends? When we speak to them, we speak sincerely and with the use of humor, compassion, and we're not afraid to voice our opinion nor hide our true personality.
We also use language that they understand and relate to very well. This is how we're able to retain their attention and get along with them well. Why not treat your readers and potential customers like the people you adore most and show them your authentic self? Besides it will make your story even more compelling and exciting when you tell it from the heart with the language that you use with your loved ones.