By: Abdulhadi Hafez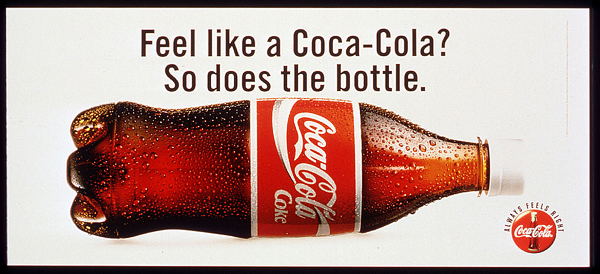 We've said it before with past blog posts such as The Future of Advertising: Dynamic Storytelling (6 Tips), and we'll say it again. The future of advertising and marketing will depend more on online content creation in the form of dynamic storytelling that either entertains or educates the end-user. 
If you're an advertiser or a marketer and have not seen the Coca Cola Content 2020 video (17-minute video broken up into two parts), then we highly advise that you should. The first part shows how advertising is starting to see a shift from having to depend on traditional channels (e.g. TV advertising) to deliver creative one-way storytelling to depend more so on online channels (e.g. social media) to spark dynamic storytelling utilizing branded content and entertainment.
This very video is a perfect example of how advertisers are moving from creative excellence to content excellence. We're used to seeing Coke use traditional advertising methods (such as in the above Coke billboard ad) to deliver creative and clever marketing messages.
But now, we're an advertising agency and Coke is giving us tips (10 chapters of it!) on advertising and marketing, doesn't this seem odd to you? Well, we're not complaining! In fact, this is a testimony to the very concept they presented in the video, this idea of "content creation in an enlightening way, reminding us that every contact point with a customer should tell an emotional story," as stated by Coke.
The second part of the video goes on to define content as the "creation of stories that are to be expressed through every possible connection." Or as Christian Haaseloquently stated, "In 2012, advertising will be more than ever the intersection of technology and storytelling."
We like to think of it as the creation of branded content and entertainment, hence the new concept, "content marketing." And if you're looking for some great examples of what content marketing entails, then be sure to check out our previous post entitled, "30 Awesome Content Marketing Examples."
Wow, who would've thought that Facebook is now the single largest publisher of ad impressions in the States? That is more than Google, Yahoo, Microsoft and AOL combined! These are even more convincing stats on how much social media is affecting advertising and marketing.
The Social Marketer has gifted us with a cool infographic that gives some important stats about Facebook that every advertiser and marketer needs to know. Enjoy!
In case you have missed this, HubSpot released a collection of 100 Awesome Marketing Stats, Charts & Graphs, based on original research and data from a variety of sources, including analysis of their 4,500 customers, surveys with hundreds of small and medium-sized businesses, and dozens of top-notch publications like MarketingSherpa, eMarketer, Pew Research, McKinsey, and more.
By: Abdulhadi Hafez
One of the terms that gets thrown around way too loosely and vaguely, is the concept of 'Return on Investment' (ROI), what is it exactly?
Simply, it is the yields that you receive in return for some sort of resource that you're sacrificing, such as people (we're not talking about the Chichen Itza style of human sacrificing), money, time, or anything that keeps you from sleeping at night. Here's the equation to compute ROI:
But here's the tricky question, how do you define gain from investment? What exactly is the gain? If you hire a marketing coordinator, then you know the cost of the investment, it's his or her salary and related expenses. But how will you determine whether you're generating a healthy ROI with this hire? Will the gain be attributed to leads, sales, profits, or some other sort of metric. You see how confusing it can get!
To make it even more confusing, let's talk about social media? Does social media actually generate a ROI? That is the least of many questions circulating this topic. Some experts argue that the because of the importance of social media in today's information, collaboration, and sharing age, the ROI of social media is that your business will exist in 5 years!
Some argue that there is a ROI, but it's too early in the game to define exactly what gain you receive from your social media investment. Even if you were able to pinpoint exactly what sort of gain you receive out of the whole crazy world called social media. The truth is that marketers have yet to come out with a solid standard measurement of social media success, but they're getting closer to doing so.
For instance, Wildfire conducted a ROI survey of over 700 marketers from all around the World to reveal what kind of impact social media is having on their businesses, and what are some of the top measurements they value the most. The results were compiled into an easy-to-digest infographic, found below. I know it;s too small to view, so just click on it so you can be taken to the larger version, enjoy!
Just last month, Reebok CrossFit, a new strength and conditioning programme, along with 3D artists Joe and Max broke the Guinness World Record for the largest 3D street art. Check it out!
The painting measured an astonishing 1,160.4m² and is the perfect example of how you can marry creativity and guerrilla marketing to create a buzz not only on the streets, but on the Web as well.
As advertising agencies and professionals, we have to be careful on what type of ads we create for it could have a detrimental effect on your business or name. The first image portrays Saddam Hussein before the Americans captured him in his hideout.

It's equally as beneficial to look at offensive ads along with successful ones, so that we can learn to stay away from producing controversial ads ourselves, especially when it deals with extremely sensitive issues like 9/11. The next image does just that by displaying a view the pilots had to the Twin Towers.

These ads were produced by HUMO, a Belgian radio and television magazine that's written in Dutch. It takes real guts or just plain insanity to produce such ads, especially when it deals with adored celebrities such as the late Micheal Jackson.

We know one thing though, we will never take such risks in the Middle East as an advertising agency seeing how important it is to have a good reputation and brand image. I guess Humo has a whole different strategy when it comes to gaining publicity in their region.

The above images deals with another praised figure, John F. Kennedy, right before he was assisinated in front of his family. Not the best kind of event you want to remind people of, especially in a comedic type of context.